Lower your consumption and optimize your energy production with smart home and solar integration. Not only will you make an impact on the environment, you will also create tremendous savings, valuable earnings, and lower your monthly expenses.
An Energy Efficient Smart Home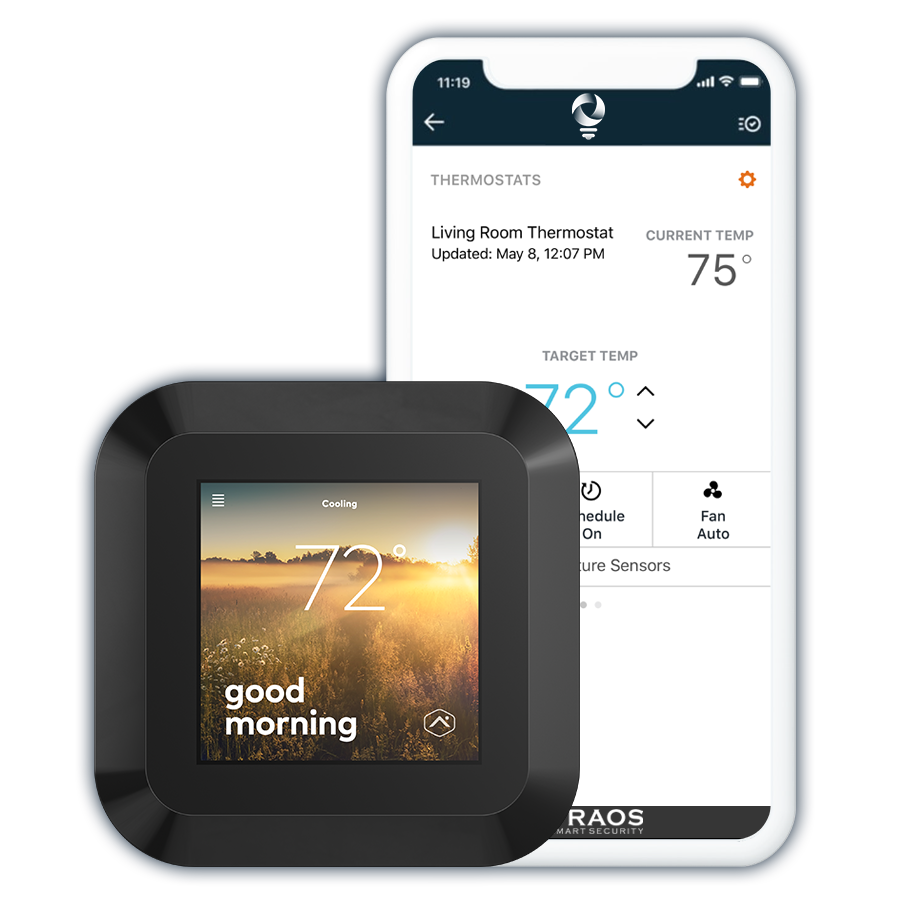 First, let's discuss how a smart home system can reduce your monthly electricity cost and reduce your energy consumption. With a smart home system you get responsive savings. For example, if you happen to open your windows to get some fresh air and forget to adjust your thermostat, that is just wasted energy going out of the window. With a smart home, your smart thermostat will respond to the automation rule which adjusts and stops the system from running until the window is closed.
Once your system sees that the window contact is closed, it will resume back to its normal setting. There are so many ways to save energy with your smart home system and automation rules. See our article on "How to Save Electricity with a Smart Home System". On average you can save up to 30% on electricity bills when a smart home system is installed and optimized for savings. We take the time to show you how to set up your automation rules and advise you on the best products to fit your lifestyle to get the results you want and deserve.
Getting Solar Reduces Costs & Your Carbon Footprint
How about adding the energy production of solar? Your very own power plant on your roof. If you could get the same electricity at a lower fixed cost, that is clean and reduces your carbon footprint, you would do it, wouldn't you?. What do I mean by lower fixed cost? According to the U.S. Energy Information Agency, Virginia's average residential rates increased 20% between December 2021 and December 2022. The trend of rising electricity prices is unlikely to be disrupted in the future, and prices will continue to fluctuate. With the installation of a rooftop solar energy system, you can help insulate yourself against these increases. It makes budgeting more manageable when you have a fixed cost.
The good news is that there are programs for installing a rooftop solar installation at $0 down for which you may qualify. Of course, roof orientation plays a part in whether solar is a good fit for each homeowner or not. Reach out to us and we can let you know if your home will benefit from having solar installed.
Claiming Residential Clean Energy Credit
After all the savings you gain with smart home and solar integration, you're also rewarded with programs like the Residential Clean Energy Credit. According to the IRS, if you invest in renewable energy for your home such as solar, wind, geothermal, fuel cells, or battery storage technology, you may qualify for an annual residential clean energy tax credit.
The Residential Clean Energy Credit equals 30% of the costs of new qualified solar installations for your home installed anytime from 2022 through 2032. It's like subtracting 30% from the cost of your solar installation, if you qualify. The credit is nonrefundable, so the credit amount you receive can't exceed the amount you owe in tax. You can also carry forward any excess unused credit. So the following years you can apply it to reduce the tax you owe.
Solar Incentives Specific to Virginia
In Virginia, you have another financial incentive called Solar Renewable Energy Credits (SRECs). Utility companies in Virginia have to meet certain sustainability requirements. They do this by purchasing credits from homeowners like you who are producing solar energy from their rooftop solar array. This is a great way as a solar owner to quickly pay off system costs by selling your SRECs.
There are several SREC brokers in Virginia to whom you can sell your SRECs. Because prices change frequently, you will want to get the most up-to-date price by contacting an SREC broker. Thanks to the Virginia Clean Economy Act, the reappearance of a higher value for SRECs has come to market.
Final Thoughts & How to Get Started
We believe having your Virginia home equipped with smart home security and solar together is the perfect solution for reducing your energy consumption. And also, to optimize your energy clean energy production for years to come. Together they will provide peace of mind, save you money, and put money in your pocket, responsibly. Contact Praos today to get started.
Now that's smarter security. By design.